Chloe -- a story of love
Submitted by

Casscounty1

on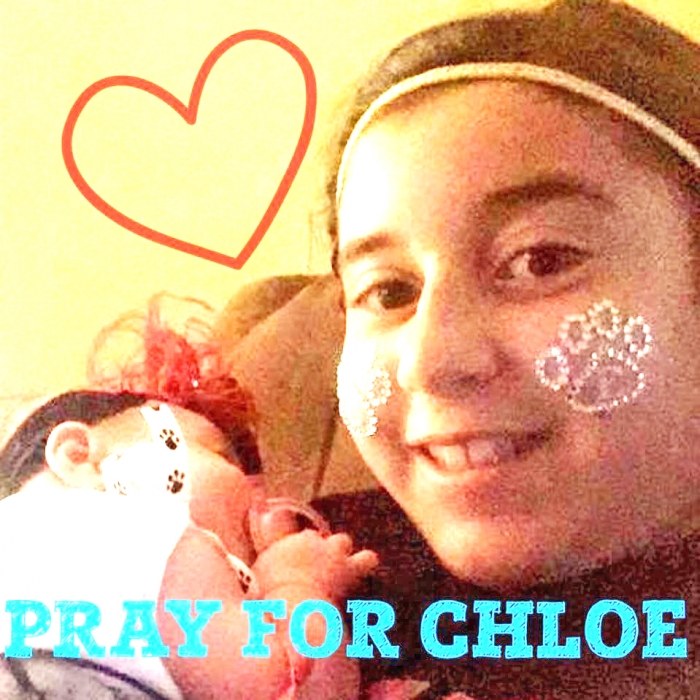 I want to take a little time to tell you about a 12-year-old young lady named Chloe Renee Cox. She is the daughter of Matthew and Michelle Cox.
Chloe is the youngest of three daughters, but has always seemed to have a wisdom that is beyond her years. She has always seemed to have a simple, reasonable anecdote to many of the problems or differences faced by herself, her sisters and others. 
So much of it has been hilariously simple.
She plays on a soccer team and is the best goaltender. She has been very active until just recently. She began to experience headaches until one day she began throwing up and her father and mother took her to an emergency treatment center. They ran a CAT scan and MRI, and now her whole life has changed drastically. 
She was immediately rushed from Texarkana via an ambulance to the Children's Hospital in Little Rock. The examination revealed a tumor at the base of her brain where the spine and brain meet.
The medic who rode with Chloe was so impressed with her happiness and humor that he and his wife and daughter traveled all the way from Paris, Texas to Little Rock to visit her and bring her some gifts a few days after her first operation. That's about a 250-mile round trip!
Chloe asked the doctors, "Am I going to die?" They reassured her that she wasn't. 
But then she asked, "Will I be dumb?" 
Again, they reassured her that she would recover.
I want to focus on the loving response that has been exhibited from friends, family, acquaintances and even strangers. 
There are people from all over the world who are aware of, and are praying for this child. This doesn't just come from this ministry (Yahweh's Evangelical Assembly), but from various Christian churches and ministries.
Chloe and her mother were walking in the hospital and somehow, they ran into each other. Chloe told her mother," I'm sorry, Mom, I'm having technical difficulties." One family, who has a printing business, took this saying and began printing T-shirts with the "technical difficulties" statement on the back. They have printed hundreds of this T-shirts and are donating all the proceeds on behalf of Chloe to the medical expenses. The T-shirts are being provided at the family's own expense. Their daughter was involved in a rodeo riding competition, and she has written on her horse, "Praying for Chloe."
Since the brain is known as "grey matter," Chloe coined the term "Grey Matters." Another family took the idea and began to make rubber band bracelets with "Chloe says Grey Matter," on them. They are selling them for $2 and donating all proceeds to Chloe. "Grey Matters" also is incorporated onto the T-shirts.
Another family began selling another bracelet, which has "Hope, Faith, Love" on it. They are selling them for $5 each with all proceeds going to Chloe.
Others have been so giving. Some have pulled out $100, $200, $500, even $1,000 cash and $500 checks, donating all to Chloe.
The Liberty Eylua community, where Chloe lives, got together and hosted a prayer vigil and bake sale. Over $5,000 was raised. The children at the school are putting together school supplies in backpacks and selling them for $25 with the proceeds going to Chloe.
Others are hosting a raffle, a dinner and auction. Still others are talking of hosting a rodeo on Chloe's behalf.
We also want to thank those in the Yahweh's assemblies who have been praying and some making generous donations on her behalf. You see, Chloe is my fifth granddaughter. She is our oldest daughter's third and last child.
As we all know, we live in a world that is increasingly becoming deadened to the spiritual senses; a world where so many people are becoming focused on pleasure, computers, cell phones, television, etc. But there has been such a loving response from so many people who are willing to give, to sacrifice for others. 
But this has also brought us into contact with other children who are suffering so greatly, horribly, terribly.
Through all of this, Chloe seems to be somewhat oblivious to it all, in a way. She still has retained that happy, outgoing, jovial nature, the ability to continue to come out with little sayings that are pertinent and to the point.
Chloe has had two operations. The first one was to get a sample of the tumor. 
The results weren't promising, as nothing cancerous is ever promising, but this is even worse. 
She was diagnosed to have stage 4 glio-blastoma multiforme. It is a tumor that has never knowingly occurred in children. 
Heretofore, it has only afflicted adults with a 100 percent fatality rate.
The second major operation revealed that the tumor had entwined itself around important blood vessels that supply the brain. Only 85 percent of the tumor could be removed.
Following the operation, Chloe had to have a feeding tube inserted into her nose and into her stomach because she had to relearn how to swallow, talk, walk etc. It, of course, took a great deal of energy out of her, but she is a trooper, and has gotten back to her old self.
She is currently at the M.D. Anderson Children's Hospital in Houston undergoing chemo-radiation.
It simply isn't possible for our family to be able to express enough thanks, enough gratitude to all those who have tirelessly and selflessly involved themselves in this fight with us.
Chloe's story is a story of love being poured out, being exhibited to the utmost. 
Jerry Healan and his wife Fran live in Atlanta.
Business Directory