Summer memories last a lifetime
Submitted by

Casscounty1

on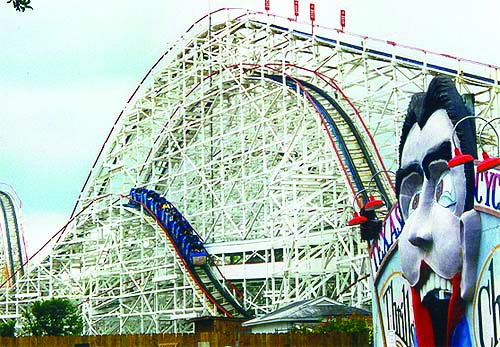 By Tim Emmons
Summer time is usually associated with several trips to the pool, lake, park or campground.
In most cases highways become a little more crowded with travelers scurrying miles and miles to reach their favorite resort or some fun-time destination.
Summer vacations are designed to be a break from the nine-month school year, and can be memorable if everything goes to plan.
Whether you travel or plan a staycation the memories made last a lifetime.
Each and every summer until I was 13-years old my summer vacation was spent between my residence in Douglassville and my aunt and uncle's home in Center.
At a younger age my days were spent skateboarding with my cousin which was easier for him since he was eight years older than I was.
When I was 11 my cousin taught me to drive a standard and I became mortified when he took me out on a major highway and made me drive 12-minutes from Tenaha to Center.
My question, "what about the police?" was met with a less than encouraging response of "just don't get caught".
By the end of summer I had mastered the art of driving a stick shift with my knuckles a little on the whiter side.
When my cousin graduated high school and began working at Stephen F. Austin University over summer my sister and I would fill the days by rounding up enough change to purchase a chocolate shake from the local Dairy Queen which was located just two blocks from my aunt and uncle's residence.
I would make it back just in time to catch an Atlanta Braves game on TBS which I enjoyed since we didn't have cable at my home in Douglassville.
If I could re-live certain times in my life a number of them would include summer breaks with my family.
As unforgettable as most of my summers turned out I can truly say the most memorable summer time journey during my childhood wasn't stationed in one place.
One summer my aunt and uncle drove us to 200 miles south to Baytown where other members of our family lived.
For a solid week we spent our days perusing the beaches of Galveston for sea shells and visiting the various shops along the way.
The brunt of our days spent in southeast Texas was at the delightful theme park AstroWorld.
Getting to experience a theme park every day for a week was amazing for two kids from Douglassville where the only attractions for us was to climb trees, run trails and ride bikes.
After leaving the Houston area we traveled on to the San Antonio area where we would witness the excitement of Fiesta Texas, the exhilaration of Sea World, the enjoyment of the Natural Bridge Wildlife Ranch, the delight of the Riverwalk and the lazy exuberance of Schlitterbahn.
If that wasn't enough we stayed in a Marriott on the Riverwalk, took frequent trips to the pool on a daily basis while my aunt and uncle rested, and topped the trip off by taking a detour into Austin so I could catch a glimpse of Joe Jamail Field inside of Darrell K. Royal-Texas Memorial Stadium.
Since that time I've spent summers in St. Louis, walked Washington D.C. three times, caught plenty of Rangers' games and spent a week at Disney World in Florida.
Hopefully your summer memories are ones that will be etched in your mind for as long as you live, and not slight tragedies like jumping into the hot tub at Schlitterbahn which in my defense looked just like a normal swimming pool.
Business Directory