KEVIN WHITECOTTON
Submitted by

Casscounty1

on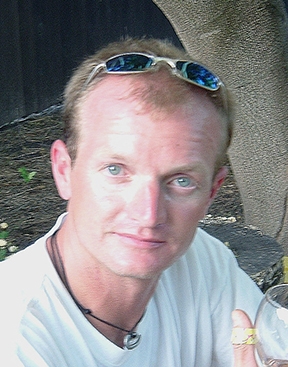 March 25, 1970 - Jan. 8, 2014
Kevin Whitecotton, 43, of Bloomburg, formerly of Dallas, went to be with the Lord, Wednesday, Jan. 8, 2014, in Bloomburg.
He was born March 25, 1970, in Texarkana, to Suzanne Simmons Bishop and Glenn Whitecotton. He had a diverse and colorful work history, ranging from horticulture sales with Hines Nurseries and Nortex Wholesale, to web site design and photography. He was a contemporary artist, with over 700 pieces in his collection, which were donated to be displayed at Baylor Hospital and other organizations. He was an employee of the Texas State Forest Service and was a member of Macedonia Baptist Church of Doddridge, Ark.
He was preceded in death by his maternal grandparents, Edwin D. Simmons Jr. and Adella Green; his paternal grandparents, Robert and Lena Mae Whitecotton; and a cousin, Daren Simmons.
He is survived by his mother, Suzanne Simmons Bishop of Atlanta; father, Glenn Whitecotton and wife Vicki of Doddridge; one sister, Karolanne Green and husband Roy Lynn of Bloomburg; two half-brothers, Kelly Whitecotton and wife Stephanie of Foreman, Ark., and Kenny Whitecotton and wife Mindy of Doddridge; one aunt, Donna Simmons and husband Bruce Crabb of McKinney; two uncles, Sonny Simmons and wife Delores of Bloomburg and John Simmons of Garland; nieces and nephews, Kaydee and Kinsey Kelly, Rylee Green, Darian Giles Lakyn Whitecotton, Lyndee Whitecotton, Clay Whitecotton and Morgan Whitecotton; as well as numerous other friends, aunts, uncles, nieces, nephews, who will miss him dearly.
The family would like to thank Baylor Medical Center in Dallas and Dierkson Hospice for the care that Kevin received over the past six months and the friends and relatives that have supported the family over Kevin's battle with cancer.
Visitation will be from 6 to 8 p.m. Friday, Jan. 10, at Hanner Funeral Service.
Funeral services will be at 1 p.m. Saturday, Jan. 11, at Hanner Funeral Service Chapel. Interment will be in Salem Cemetery under the direction of Hanner Funeral Service.
Business Directory