JANE SOLLEY GRAVES
Submitted by

Casscounty1

on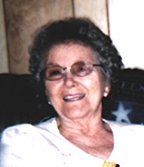 Aug. 1, 1936 - Jan. 8, 2014
Jane Solley Graves, 77, of Cass, went to be with the Lord, Wednesday, Jan. 8, 2014, in Atlanta.
She was born Aug. 1, 1936, in Cass to Ellis and Doris Solley. She was a homemaker and a member of Cass Baptist Church. In her spare time, she loved babysitting children.
Her parents, three brothers and a sister preceded her in death.
Survivors include her husband of 60 years, Wayne Graves of Cass; one daughter, Gayla Stevens and husband Stan of Texarkana; one brother, John Solley of Cass; four sisters, Modene Brown of Bloomburg, Olene Thompson of Cass, Jean McKinney of Cass and Robbie Endsley and husband O'Dell of Cass.
Visitation was from 5 to 7 p.m. Thursday, Jan. 9, at Hanner Funeral Service.
Funeral services will be at 10 a.m. Friday, Jan. 10, at Cass Baptist Church with Bro. Jason York and Dr. Gary O'Day officiating. Interment will follow at Cass Cemetery under the direction of Hanner Funeral Service.
In lieu of flowers, memorials may be made to Cass Baptist Church, c/o Hanner Funeral Service
,
103 W. Main St., Atlanta, Texas 75551, or to the Alzheimer's Association at
www.alz.org
.
Business Directory